Tributes
Here are some tributes to Peter Hall, by the faculty of the Statistics Department at the University of California, Davis. If you would like to share your memories of Peter, send them to pscully@ucdavis.edu and we will add them to this site.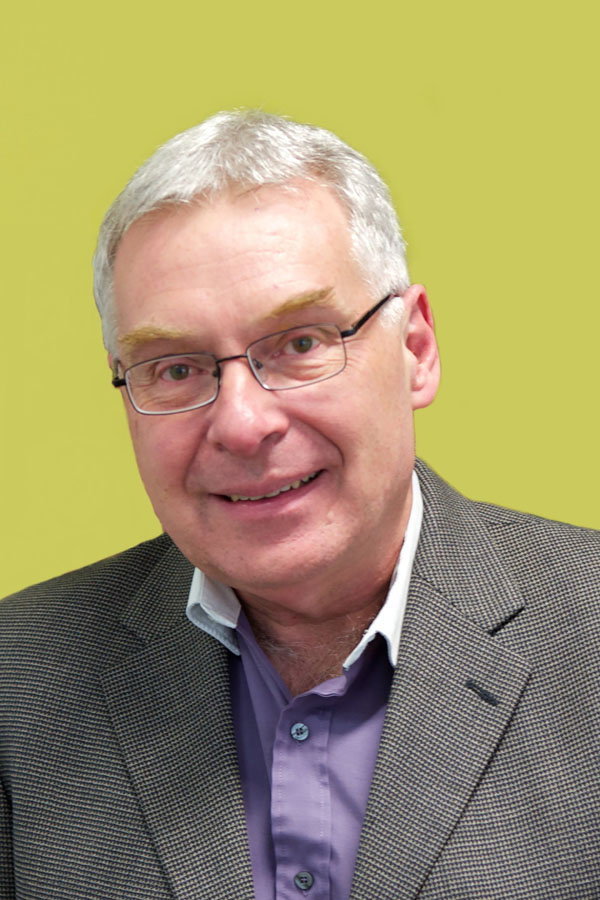 Hans-Georg Müller
An obituary to Peter Gavin Hall, 1951-2016 (pdf)
Jane-Ling Wang:
"Life is short, all too short for Peter.
But no doubt that Peter had gotten the most of it.
Not only has he left a towering legacy of scientific discoveries, his kindness and generosity have touched the lives of many fortunate enough to have crossed path with him.
I am grateful for the privilege to have been his colleague and of his friendship.
Jane-Ling"
Frank Samaniego:
Peter Hall's sad, premature passing in January, 2016, was a huge loss to the Statistics profession, but an even greater loss to the lucky people who got a chance to know Peter as a friend and colleague on a day-to-day basis. Peter was, of course, the most prolific researcher in our discipline, and any technical discussion one might have with him added new and useful insights about the issue or problem that was raised. Following his appointment to the Statistics faculty at Davis in 2005, he regularly spent Spring Quarter with us. From the beginning, he added excitement, quality and breadth to our teaching and research programs. Peter had a natural curiosity that led to his immediate interest in statistical problems of any type. I feel fortunate to have attracted his interest to the area of reliability. As our collaboration and friendship grew over time, I personally experienced the brilliance of his intuition and technical skill, and I also had the pleasure of seeing many of his personal qualities. For example, no one was more concerned than Peter when my garage suddenly became infested with hundreds of bees. Peter immediately got in touch, offering concrete suggestions about dealing with the problem. My fondest memories of Peter are of the many enjoyable conversations we had over a meal, either as a twosome running off for a quick lunch, as part of a small group taking a visitor to lunch or dinner or in some corner during a departmental social event. Peter Hall was an unusually broad and prolific researcher, a teacher who challenged and nurtured his students and a colleague who contributed positively to all aspects of our department's milieu. We were honored and blessed by his presence. He is, and will always be, fondly remembered and greatly missed. May he rest in peace!
Jiming Jiang:
Some reminiscences about Peter
By Jiming Jiang
1. In 2007 and 2008, two years in a row, I was selected as Fellows of the American Statistical Association and the Institute of Mathematical Statistics. Peter was one of the support-letter writers in both nominations. As a standard way of showing appreciation to someone's help in professional career, at least in our profession, I sent an email to Peter asking if I could treat him a lunch, on a weekend day. I, of course, understood that he was extremely busy with all of his work, and I was, after all, not an "important person". Someone with his level of prominence could have found a dozen of normal excuses, such as "thank you for the invitation but I've got some deadlines to meet this weekend"; "thank you for your invitation, but I need to finish some work over the weekend"; "it was my pleasure to write for you but there is no need for you to do so, although I do appreciate your thoughtfulness". Surprisingly, Peter immediately accepted the invitation. He even asked if his wife, Jeannie, who was in town in Davis during the time, could join us. I, of course, would be more than happy to have Jeannie joining the lunch. Then, on the day we scheduled to meet for lunch, Peter showed up at the exact time, with Jeannie, and his bike. This was the first time that I met Jeannie in person. We had lunch at Hunan restaurant in its previous (nicer) location.
2. In 2011, George Roussas, Frank Samaniego and myself were editing a Festschrift for Professor P. K. Bhattacharya, a retired faculty member of UC-Davis, in the occasion of his 80th birthday. There was one contribution submitted to the Festschrift, for which I needed to find a referee for peer review. The contribution was closely related to one of Peter's work; in fact, many of Peter's papers were cited. This made Peter a perfect reviewer. Still, I wasn't sure if Peter had time to take a look, given his extremely busy schedules and the generous nature of the review process. After some consideration, I decided to give it a try. I sent an email to Peter saying that we had received a contribution that was closely related to his work; we knew that he was extremely busy so would completely understand if he could not provide a review; in the latter case, we would appreciate it if you could suggest an alternative reviewer. Frankly, I was really hoping the latter (that is, alternative reviewer) after sending the email. The email was sent out around 2 a.m. Pacific Time. I wasn't sure where exactly Peter was at the time. Then, within 15 minutes, and to the excitement of my total surprise, Peter replied, with a full-page referee report!
3. On January 28, 2016, I attended Peter's funeral in Springvale, Victoria, Australia, as a representative of the Department of Statistics, UC Davis. The Department sent a flower basket to the funeral (see picture), with the following written on a message card:
On the sunniest days,
through the darkest nights,
at the bottoms of our hearts,
we always remember you, Peter,
our beloved mentor, colleague, and friend!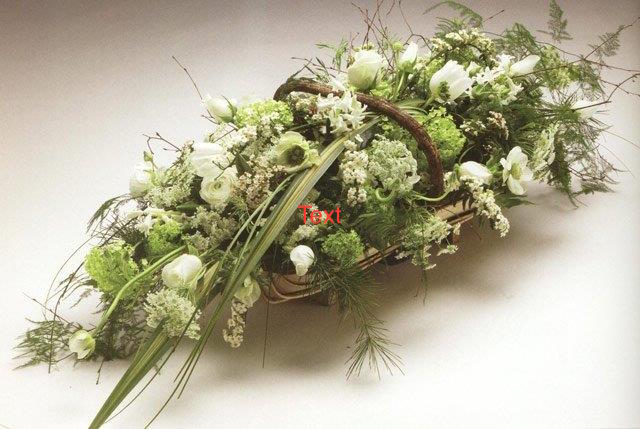 Rudy Beran:
"I always felt unusually intelligent when chatting with Peter, whether casually or while collaborating on a paper. It took me a while to realize that this was Peter's doing: he would immediately perceive what I was trying to express, sharpen it mentally, and then advance the conversation to the next stage, in a completely unobtrusive way. Indeed, he is the only person I have known who naturally spoke and wrote, without apparent effort or pretence, well-formulated English prose.
Peter's longstanding deep knowledge of train locomotives and of photography is legendary, familiar to many who visited him at the ANU and accompanied him on a weekend photographic train chase, racing down unspeakably potholed, rural dirt roads. While walking with him in Davis, I learned that his knowledge of aircraft was equally deep. What I saw as a big airplane in the sky overhead, he immediately identified as a military cargo plane, specified the model and possible load configurations, and noted it
was gliding toward a landing at Travis.

Peter could have been outstandingly successful in several fields. He was a puzzle-solver par excellence. It is our great good fortune that he chose to devote his time to advancing Statistics; and chose to bring his brilliant, generous, and kind personality to the life of our
Department in Davis."

--Rudy Beran
See also: Royal Statistical Society, Obituary for Peter Gavin Hall AO, 1951-2016, by R. J. Beran and N. I. Fisher
George Roussas:
Some reminiscences on Professor Peter Hall
By George R. Roussas
"Here are a few instances in my professional career that I was fortunate enough to have some interactions with Peter.
The first was when I joined UC Davis in 1985. From the first moment, I made plans in my mind to help attract to Davis the very best statisticans we could. Peter Hall was one of the top targets, along with another three or four.
Peter was approached in an unofficial manner for the possibility of joining our units, either on a full-time basis or on a part-time basis. The first possibility was excluded, but the second was left open for the "appropriate time".
That "appropriate time" did, eventually, come much later, and Peter came aboard.
The photo below is related to the first attempt to attract Peter to Davis. In front of Kerr Hall, UC Davis, in 1986, from front left to right: Leh-Shin Lii - UC Riverside; YP (Ed) Mack - UC Davis; Murray Rosenblatt - UC San Diego; Peter Hall - Australian National University; and George Roussas - UC Davis.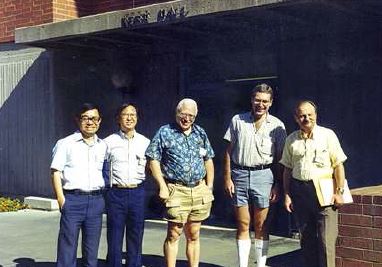 The second case was when I requested Peter's help as a referee of two papers that I was handling as an associate editor of Statistics & Probability Letters and a member of the editorial board of Statistical Inference for Stochastic Processes. In both cases, Peter happily accepted the requests, and provided his referee's reports, practically... by return mail! (He recommended acceptance of one and rejection of the other).
The third case was when Peter, Marc Hallin, and myself were requested to select, classify, and organize the research papers of our colleague Madan Puri with a view to have them published. The work was done and resulted in three volumes (Madan Lai Puri Selected Collected Works) for a total of more than 2,300 pages. The volumes were published by VSP, Utrecht, 2003. Subsequently, Peter, Marc and myself had the pleasure of presenting the volumes to Madan in a special ceremony organized in Bloomington by indiana University.
Finally, the last case was when I requested from Peter a letter of support for a nomination of a colleague that I made for a national award. Once again, Peter responded in a very speedy manner, and the award was obtained!"
Debashis Paul:
In memory of Professor Peter Hall
Professor Peter Hall is a hero to people like us who started pursuing statistics as a field of study and as professional career towards the end of the last millennium. His widespread, deep and voluminous contribution to statistics as a discipline is already part of folklore. For me, being a colleague of Professor Hall, when he graciously accepted the offer to become a member of the Statistics Faculty at University of California, Davis, is among the greatest privileges. It is remarkable to have the opportunity to interact, at any level, with such a stalwart in the field. My vantage point at being his next-door neighbor in our department building enabled me to notice his extraordinary diligence, his barely believable capacity to focus on tasks on hand, and his unbounded enthusiasm for following up on challenging mathematical problems. What left the most indelible imprint on me was his humility, kindness and friendliness, his ability to engage in conversation with essentially anybody on effectively any topic with a level of candor and forthrightness that I have rarely observed elsewhere. I am privileged to have received advice and guidance from Professor Hall on numerous occasions, as well has his unrelenting support for my academic activities. I have also had the good fortune to be able to interact with him fairly regularly during his annual visits to Davis. One of the most enjoyable experiences for me was to accompany him to the annual Picnic Day event on UC Davis campus. He was especially fond of taking photographs of the "Battle of the Bands". The other incident that will remain etched in my memory took place during the initial phase of his illness that needed a visit to UCD Medical Center in Sacramento. Even in that deplorable state of health he would be continuously working on his laptop to perform his numerous duties to the academic community at large. Professor Hall will always be remembered for his own magnificent academic achievements, but even more so for what he gave out to the world. I personally will forever miss this great man, friend, mentor and inspiration.